Moving to a new community is an exciting adventure but it can also be very intimidating. Being able to create a plan of attack for when you move can help you stay focused, organized and proactive.
Here are a few ideas you can use: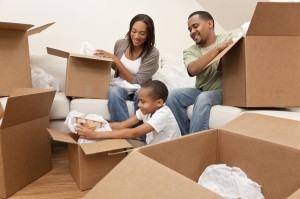 Get your address change form before you move – You can pick one up at the post office or complete it online. It's a good idea to complete this ASAP when you move. If you subscribe to any weekly or monthly publications, you'll want to send them an updated address, too.

If you are moving to a new town, contact the visitor's bureau so you can get information about your new city. They usually have maps available with key elements of the town highlighted, such as parks, lakes, community centers, etc. Use this to figure out quick routes for you around town.

Locate the closest health care facility for you, your spouse and/or your children. Also, you will want to know where the nearest hospital is. If you have a pet, find the closest veterinarian. It is better to be prepared for an emergency than to scramble and make your situation worse. Also, locating the police station and fire station is important, too.

If you know you are moving in advance, you may want to put your child on a waiting list for numerous childcare facilities. These lists can sometimes be full for months.

Enroll your children in school and let them take a tour of the school on a weekend. Let them be accustomed to their new surrounding as this will be the biggest adjustment for any of your family members.

Pack a bag with your essentials: a few outfits, prescription medicines, toiletries, cell phone chargers, towels, toilet paper, bed linen, etc. Moving takes a lot of you and having to search through numerous boxes to get to the things you need is the last thing you want to do when you get to your new place.
Check back next week for our next set of tips!